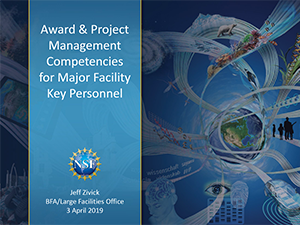 NOTES
DOWNLOAD
Award & Project Management Competencies for Major Facility Key Personnel
This session discussed future NSF expectations for Recipient organizations to identify Key Personnel who have the qualifications to fulfill a set of core competencies considered necessary for successfully managing an NSF major facility award. Based on input received from the 2018 Large Facilities Workshop, the team approach was used for meeting the suite of competencies and qualifications and included a combination of experience, education, training, or certifications. Competencies also depended on the life-cycle stage of the project (Design, Construction or Operations).
The draft set of core competencies has been developed based on industry best practices and those for agency staff as required by the Program Management Improvement and Accountability Act (PMIAA). As part of this session, attendees were encouraged to provide feedback to NSF on the drafting of this new section in the Major Facilities Guide (MFG).
Presented on April 4th at the 2019 Large Facilities Workshop.
Jeff Zivick
Large Facilities Advisor, Large Facilities Office, NSF Office of Budget, Finance & Award Management
703.292.8692
Back to Knowledge Gateway