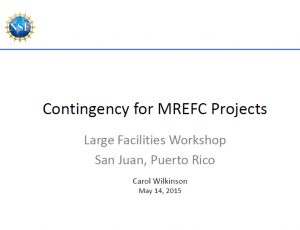 DOWNLOAD
Contingency for MREFC Projects
This session provided information on requirements for estimating and managing contingency as a component of risk management for NSF construction projects, and gave guidelines and examples of methods for meeting those requirements. Participants are better prepared to create realistic and reasonable contingency estimates and management plans for their projects.
Presented on May 14th at the 2015 Large Facilities Workshop.
Carol Wilkinson
Facility Advisor, NSF/Large Facilities Office.

Back to Knowledge Gateway