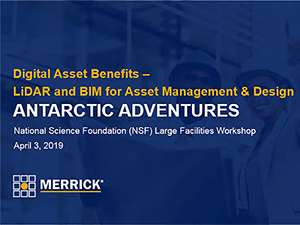 DOWNLOAD
Lessons from Large Facilities Development and Operation in Remote Environments
This session consisted of two parts: During part (1), Christine Lurtz presented on the digital assessment management tools, LiDAR and BIM for design and operations efficiencies. The application of best practice digital tools were discussed as it pertains to modernizing management of legacy and new infrastructure in McMurdo, Antarctica.
In part (2), George Blaisdell discussed remote infrastructure monitoring and management including use of instrumentation and simple data analysis in creating situational awareness and decision support for infrastructure in McMurdo, Antarctica and Summit, Greenland.
Presented on April 3rd at the 2019 Large Facilities Workshop.
Related Presentations
Lessons from Large Facilities in Remote Environments (Blaisdell, 2019)
Christine Lurtz
Project Manager, Antarctica
Back to Knowledge Gateway