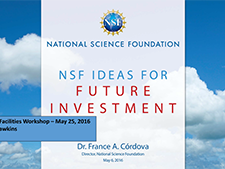 DOWNLOAD
NSF Future Investments, NAPA Report, and Evolving Oversight
The presentation began with a summary of Dr. Cordova's "NSF Ideas for Future Investments" presented to the National Science Board in May.
It then segwayed into an overview of the National Academy of Public Administration (NAPA) Panel Report on NSF Use of Cooperative Agreements to Support Large Scale Investment in Research. The NAPA recommendations support NSF use of cooperative agreements with recommendations are intended to improve NSF's oversight and project management practices for large facility construction projects.
Key recommendations included (1) developing a community of practice for documenting, sharing, and implementing lessons learned, and (2) implementing requirements for project management experience, certification, and training. Community input is requested to facilitate the implementation of recommendations and inform forthcoming guidance within our Large Facilities Manual.
Presented on May 24th at the 2016 Large Facilities Workshop.
Matthew Hawkins
Head, Large Facilities Office, NSF Large Facilities Office of Budget, Finance & Award Management
703.292.7407
Back to Knowledge Gateway