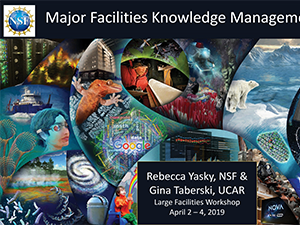 NOTES
DOWNLOAD
Applying the Learning Culture Concept to NSF's Major Facilities Knowledge Management Program
This session was conducted in two parts. The first part developed an understanding of how the NSF Major Facilities Knowledge Management Program functions and the interfaces between NSF and Facilities. As a follow-on to last year's Knowledge Management session, participants in small groups identified techniques for discovery of best practices and lessons learned within their organization to cultivate the NSF Major Facilities Knowledge Management Program. Each group shared key outcomes of their discussions.
Presented on April 2nd at the 2019 Large Facilities Workshop.
Rebecca Yasky
Large Facilities Advisor, Large Facilities Office, NSF Office of Budget, Finance, & Award Management
703.292.4309
Virginia Taberski
Contracts Director, University Corporation for Atmospheric Research
303-497-2132
Jose Martens
Sr. Financial Compliance Manager, Associations of Universities for Research in Astronomy, Inc.
Back to Knowledge Gateway